I would like to take this opportunity to introduce myself. My name is Kori Cooper, and this is my seventh year to teach kindergarten at High Country Elementary School in the Eagle Mountain/Saginaw Independent School District. I am a 2000 graduate from Texas Christian University in Fort Worth, Texas, where I obtained a Bachelor of Science degree in Elementary Education with an emphasis in Early Childhood. I love teaching kindergarten and continue to be amazed at what children at such a young age are able to learn as well as what I can learn from them.

I pride myself on having high expectations for both myself as well as my students. I want them to have a great first-year experience in a public school setting, and I work very hard throughout the year to ensure that each student's needs are met. I feel honored and privileged to be working with the children and parents of High Country Elementary.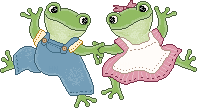 This year I have many plans for a fun-filled, learning environment that will allow children not only to succeed, but also excel. I work hard to become partners with my students' parents in order to assist them in their child's learning, growth, and development.

I love my job, and I look forward to having a very rewarding and successful year at High Country!
Miss Kori Cooper