On May 2, 2008, we spent a fabulous day at Bora Bora, a part of the
French Polynesian Islands. We had a private tour that included a "motu picnic."

Everything about Bora Bora was fantastic!! I do believe the water here
is the most beautiful I have ever seen. There are at least four to six different shades of turquoise everywhere you look! You can not capture
the contrast in color on camera!! You just have to see it!!
We had a great time swimming with the sting rays and the black-tipped reef sharks!! Then we snorkeled at The Coral Gardens which was the most spectacular snorkeling we have ever done. Finally, we went to our own private motu for a picnic and some beach time!
We ended our day with a visit to the famous--"Bloody Mary's!"
Check out one of our favorite ports on this cruise in the following "My Tropical Vacation" slideshow:

Click on the "play" button to see our slideshow!
Once you get to "Smilebox," click on the "full screen" button to see the album.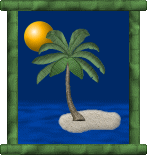 Graphics on this page are from...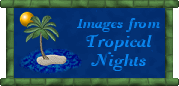 Thanks go to Tom for letting me use some of his photos.
Music on this page is Hetiare from Marama.